Learn, Understand and Grow With Your Child!
"Parent and Me" Parent Participation Preschool / Parent Education
Learn, Understand and Grow with Your Child
The Parent Education Program or "Parent and Me" Program is based on the premise that learning is a natural ongoing process. Classes are designed to train parents to create supportive, positive, developmental learning environments for their preschool children that will stimulate their physical, intellectual, social and emotional growth. This is done through participation, observation and discussion with credentialed teachers. Affordable classes are offered for children from four months to five years old, including a baby/infant class, night class and kindergarten readiness class. The program includes pre-reading, math concepts, science, music and motor skills development, in addition to various parenting topics. Children and parents learn together.
Online and in-person SUMMER session registration is open now!
Due to limited enrollment, registration is on a first-come, first served basis.
*Choose your classes carefully! There will be a charge of $5 to transfer or $10 processing fee to drop a class before the first day of class.
NO REFUNDS WILL BE GIVEN AFTER THE FIRST CLASS MEETING.
The adult is the student so the person that will be bringing the child is the one that should be enrolled.
Requirements for Registration
It is NOT necessary for children to be potty trained. Children MUST meet the age requirement of the class.
Second adult from the same family must register in the Cuesta office in order to get the 2nd adult discount. FEE FOR THE SECOND ADULT WILL BE $40.00 PER SEMESTER.
Proof of current immunizations is required before a child may attend a Parent Education class. The immunizations required for school enrollment: DPT or DT, MMR, Hepatitis B, Hib and Varicella. An adult must have a current tuberculosis clearance. Verification of vaccination and/or immunity to influenza, pertussis, and measles must be provided before you are allowed to interact with pre-school age children in the district.
2 – hour per week classes $72 + $10 material fee = $82 per Semester (Infant & Night Classes)
3 – hour per week classes $108 + $10 material fee = $118 per Semester
3.5 – hour per week classes $126 + $10 material fee = $136 per Semester 
4-5 – hour per week classes $144 + $20 material fee = $164 per Semester
6 – hour per week classes $216 + $20 material fee = $236 per Semester
7 – hour per week classes $252 + $20 material fee = $272 per Semester
9 – hour per week classes $324 + $30 material fee = $354 per Semester
10.5 – hour per week classes $348 + $20 material fee = $368 per Semester 
All adults attending class must be registered. This is not negotiable.
All children must be accompanied by a registered adult.
A second adult may register at a reduced fee. This registration must be done at the Cuesta office.
A visitor must fill out the required forms and may stay to observe only for up to 30 minutes.
An adult that would like to participate in an entire class may do so by filling out the appropriate forms and paying a $5 fee. This guest must be accompanied by a registered adult.
All students must sign waiver forms that apply to scheduled classroom time and field trip activities.
Nancy Hom has been involved in the Parent Education Program at ABC Adult School since 1986. She attended the program for nine years as a parent. Believing strongly that parents, as well as children, gain so much from the program, she has been a Parent Education teacher since 1994. She teaches classes for parents with siblings and also for parents with pre-kindergarten children. She received her Bachelor's degree from UCLA and her Teaching Credential from CSU Northridge.
Nancy Cham received a M.A. in Library Science from SUNY in Albany. She has been a Parent Education Instructor at ABC Adult School since 1979. She has 33 years experience as a Parent Education Instructor at ABC Adult School. Nancy speaks English, Mandarin and Tagalog.
Marcela Hoover received her Bachelors of Fine Arts degree and her Multiple Subject Teaching Credential from Chapman University as well as her Masters in Fine Art degree from Otis College of Art and Design. She currently participates in the Parent Education program with her two young daughters. Marcela's artistic background lends to creating unique, collaborative lessons where adults and children can feel safe to be creative and develop skills to become life-long learners. 
Genna Cottrell is a current student in the Parent Education Program, as well as a teacher, and has been attending the program since 2017 with her young sons. She most enjoys learning from each other and sharing ideas for parenting, teaching, outings, and just having fun with our children. She believes the highest reward that this program has to offer is discovering how your child learns and to help foster that love of learning in and out of the classroom, while strengthening the relationship with your child. Genna earned her BA and Credential from CSU Long Beach and a MA in English Literature.
Jill Cohen-Doron participated as a parent in the program with her two children over a span of eight years. She enjoyed it so much she went back and earned her Parent Education Teaching credential from CSU Long Beach, where she had also earned her Liberal Arts Degree. She feels strongly that the Parent Education program provides a positive experience for both parent and child.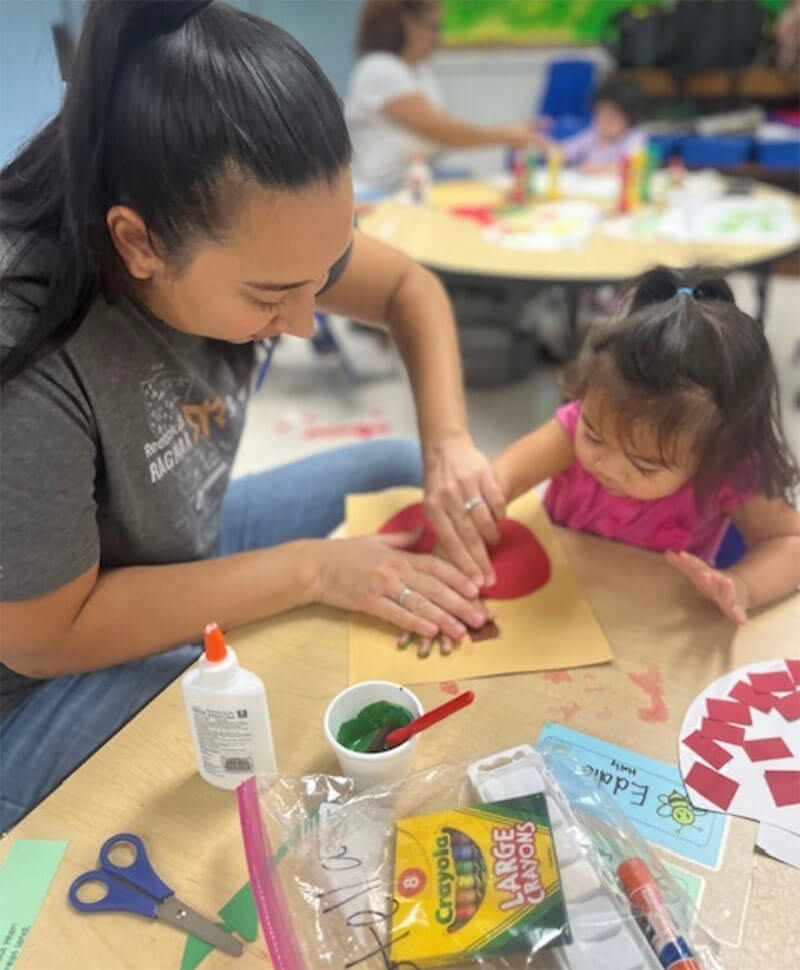 Parent Leadership Academy