Message from the Principal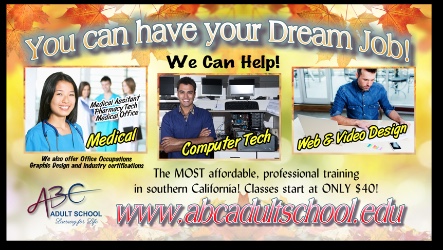 A proud member of the PAACE Adult Education Regional Consortium
Year of Great Opportunities: Student Financial Aid Available
(Fill out FAFSA at www.fafsa.ed.gov.  ABC Adult School Code: 042270)
Dear Community Members:
School Year 2020-21 is finally here and hopefully it brings some relief to you and your families from the unusual times we have all experienced.  For ABC Adult School families, I wanted to take this opportunity to thanks them for leading students and community members through distance learning and making sure the students in our school continue to feel connected and keep growing during these challenging times.
As the principal of ABC Adult School, it gives me a great pleasure to extend my warm welcome to all of you to the 2020-21 school year. ABC Adult School is a school rich in a tradition of excellence, an academic institution that prizes excellence in teaching and life-long learning. It has been, and will always be, a place that is vibrant with a rich diversity of people, and where many of you feel comfortable with challenges and opportunities that genuinely provided by the outstanding and dedicated staff.
ABC Adult School is a proud member of the PAACE (Partnership for Adult Academic and Career Education) Adult Education Regional Consortium and the 5th largest adult school in the state of California.  As the principal and the PAACE Leadership Team member, I can assure you that ABC Adult School will continue providing all the resources needed to further the PAACE consortium plan that offers students the latest in curriculum in a safe, state-of-the-art learning environment for greater opportunities!
I take great pride in being the principal of this great school and I am very proud to be working with such an excellent learning community.  If you need further information, please feel free to call (562) 229-7960.  I wish you much success in the new school year and I personally look forward to seeing all of you on our campus and in our classes, hopefully soon.

Celebrating 50+ Years of Quality Services in Adult Education
ABC Adult School is ready to support you in your "Learning for Success" efforts.